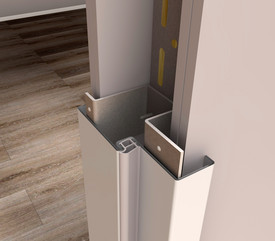 Steel frames for stud walls
A steel frame is the ideal frame for doors and windows and not only for load-bearing walls and exterior walls. Steel frames with their very special qualities are convincing in interior design. This also applies to lightweight walls such as stud walls and dry construction. Here the steel frames for stud walls from BOS do their utmost in order to achieve all the qualities expected of a partition wall in lightweight construction.
Stability in interior design with steel frames
Stud walls are dry construction, consisting of thin sheet aluminium elements and gypsum plasterboard. Despite their filigree and extremely light construction, modern stud walls are very stable. This means that they can also be equipped with sophisticated door systems. In addition to a large selection of steel frames for conventional active leaf doors, our range also includes very special steel frame systems for sliding doors.
Technical data for our steel frames
We manufacture our frames from 1.5mm thick sheet steel. The colour design can be carried out on site by a painter according to your wishes. However, we can also provide you with our powder coating. We offer all common RAL colours that you need for your interior frames.
Steel frames for active leaf doors
Accurately fitting frames according to DIN for stud walls
To ensure that planning and reality match, we manufacture your frames strictly in accordance to DIN 18101 and 18111. Accuracy of fit, distance between hinges, stability and flexibility are therefore calculable parameters which can be fully relied upon.
» Discover our DIN frames for stud walls now!

Steel frames for sliding doors
In our range you will find steel frames for sliding doors especially designed for drywall construction. These elegant, space-saving and extremely practical door systems are particularly suitable for larger openings. The ideal wall for these frames is the statically non-critical drywall construction: The combination of sliding door and drywall offers new freedom in the design of floor plans.
LineaOutside, the sliding door frame for sliding doors running in front of the wall
» Discover LineaOutside!
LineaCompact, the sliding door frame with integrated entry case for sliding doors running in the wall

» Discover LineaCompact!
LineaSet, the disassembled sliding door case for sliding doors running in the wall
» Discover LineaSet!
Best Of Steel – Steel frames Made in Germany
BOS Best Of Steel is a company of the JELD-WEN Group. You will find us close to the Dutch border in Emsdetten in North-Westphalia. From there we have been manufacturing steel frames for brickwork and dry walls since 1967. Excellent quality, outstanding service and always an open ear for our customers - that is a part of our company secret. With our R&D department we are always up to date and can contribute to every new trend. This means that you will not only find steel frames that are practical and attractive at BOS. Even if you have high demands on fire or burglary protection, you have come to the right place.
More than fifty years of experience have proved us right: With BOS Best Of Steel you always get the best of steel.