Steel frames for sports halls
Steel frames for sports halls are subject to strict requirements
Doors and frames in sports halls are exposed to extreme loads. The frequency of use is high and in the fervour of training, doors prove to be a hurdle for people and crash barriers for balls. Sports hall doors must be flexible, area-elastic and stable in order to withstand these physical loads without potential danger. Edges and protrusions on the sports hall side provoke injuries and are forbidden for understandable reasons. The doors in our sports hall frames close flush with the wall on the inside of the hall.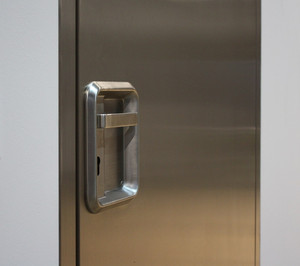 First choice for sports halls:
We recommend our robust and flexible Planar soffit frames to constructors and planners. This sports hall frame is designed so that the door element closes flush with the wall on the inside (in the hall) and the door especially opens out of the room when being opened.
Well thought-out design and useful additional options
Planar soffit frames are available as one piece or two part split frames. We suggest the use of door stoppers so that the sports hall doors do not hit the walls and frames when being opened. Alternatively, we recommend the use of door closers with opening limiters.
Planar soffit frames are made of galvanized sheet steel or from stainless steel and are suitable for wooden door leaves. We provide a primed or powder coated top finish. Stronger door leaves which are commonly used in sports halls have a higher weight. They impose an additional load on the construction; therefore, we recommend the use of 3D hinge pockets, which are optionally available.
The product line Planar offers further possibilities for additional accessories, for example we supply concealed hinges and stainless steel striking plates on request. Our stainless steel striking plates are available in the designs Protect and Protect & Clean.