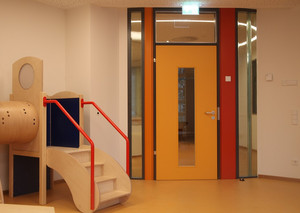 Steel frames for day care facilities

No appreciation of risk – numerous accidents in day care centres
Children cannot assess the risks posed by unsecured doors. If children's hands get trapped between the door's closing edges it can lead to serious injuries, at the worst a risk of finger loss. Sharp profile edges harbour an additional potential danger. The accident insurance companies have analysed the reported cases and adapted their prevention guidelines. Operators and planners have a responsibility to find suitable structural solutions. We would like to support you in an advisory capacity.
The following product solutions are recommended for child care facilites: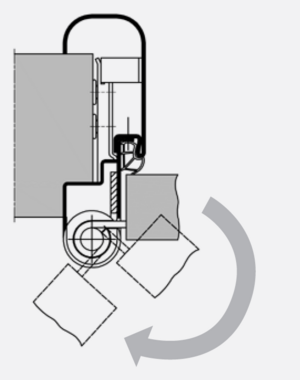 An eye for danger – we protect the delicate hands of children
The main and secondary closing edges of a door are the Number 1 danger points for young children. Whilst there is 'only' a danger of crushing at the main closing edge, the secondary closing edge is also a cutting point. If a child sticks its finger between the hinge side of the frame and the door leaf when the door is open, the closing force exerted on the finger when closing the door is about 30 times as great. In order to avoid such accidents, we offer solutions for both renovation and new buildings with integrated safety constructions. Our products provide a maximum of safety and convince with an equally attractive appearance.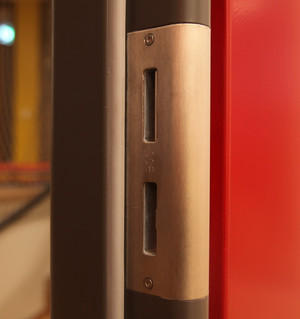 SafetyDesign steel frames from BOS – the safe and aesthetic anti-finger trapping solution
With the special construction of the frame profile we prevent finger access and reduce the risk of cutting. By installing a SafetyDesign finger protection frame, the pivot point of the door lies centrally to the architrave radius. The door leaf rotates at an even distance from the frame so that a trapping of fingers is not possible. In the rebate area we create a buffer zone by using a raised seal providing additional safety in this region. Steel frames are edged profiles. According to the guidelines for day care centres, the profile edges must be rounded. A radius of at least two millimetres is mandatory. Our BOS SafetyDesign steel frames are edged with a radius of 2.5 millimetres. We manufacture steel frames for day care centres for children, which suit the individual structural conditions. Please contact us! We have your solution!