Educational buildings such as schools and universities
Public educational buildings – a challenge for planners and developers
Schools and universities are places with a high visitor frequency, which means that the demands on the robustness of the individual components are correspondingly high. Doors and door frames are among the building components that are subject to extreme loads. Furthermore, extensive accident prevention regulations must be observed for both renovation and new buildings. Our steel frames fulfil all requirements for durability, functionality and safety. In addition, they also offer scope for a visually attractive design.
You have the choice!
We recommand the following product solutions for educational buildings:
We would like to point out that the folding radii of all steel frames are at least 2.5 millimetres and thus meet the legal requirements.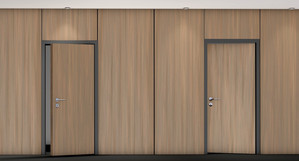 Planar soffit frame – flush with the wall and stable
The advantage of the Planar product range is the flush door closure – even with different opening directions.
The frame type is also suitable for installation in sports halls, as the door element closes flush with the wall on the inside (in the hall) and the door does not open into the room when opened.
The Planar soffit frame for wooden doors is available as a one part or two-part split design. We manufacture Planar frames from galvanized steel sheet with a primed or powder coated surface, alternatively from stainless steel. Door leaves made of thick material have a high weight and stress the hinges and hinge pockets. We recommend the use of our optionally available 3D hinge pockets.
Additional options are available for concealed hinges, stainless steel striking plates and other individual provisions on request.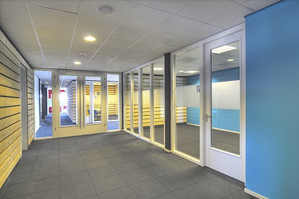 Effective use of glazing
With the installation of top-light and side part frames you convey a generous feeling of space. Door leaves with a light cut-out, top-lights and glazed side parts provide increased light incidence and a friendly atmosphere.
Our top-light/side part frames for wooden and glass doors are available as one part or two part split frames. We manufacture the frames either from galvanized steel or stainless steel. The surfaces are primed, or powder coated. Optional 3D hinge pockets, concealed hinges and stainless steel striking plates are available. On request we weld the tube glazing beads to form a frame.
Please contact us if you require further elements not listed.
Protection of delicate little fingers
SafetyDesign frames minimize the risk of injury. Rounded shapes, integrated hinges and a raised seal provide the necessary extra safety. The door leaf rotates at an even distance around the frame architrave when opening and closing. With this construction, we avoid fingers being cut or squashed.
The safety frames are available for flush closing, single or double leaf doors. We manufacture them from galvanized sheet steel, with a primed or powder coated surface, or from stainless steel.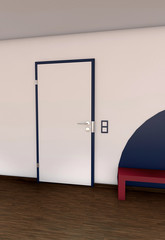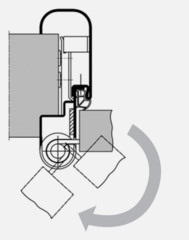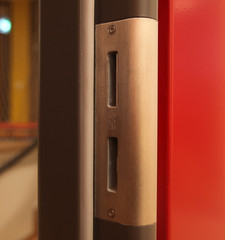 Note for BOS steel frames (GUV-V S 1):
The radius of the fold in BOS steel frames is at least 2.5 mm. The German Accident Prevention Regulations for Schools (§ 11 Section 1) stipulates that the folds, edges and hooks of fixed and moveable furnishings should either be rounded or appropriately bevelled (radius > 2mm).
Up to a height of at least 2.0 m safety glass has to be used for all glazing elements (§7). This must be clearly and easily recognizable (e.g. via stickers, structuring etc.).